#8 Heavy Duty Coil Zipper
#8 Nylon Zipper
| | |
| --- | --- |
| Model: | 0224-10 |
| Size: | 8# |
| Type: | A/L |
| Material | Nylon coil zipper |
| End Type | Open-end |
Size: #8
Type: O/E A/L
Material: Polyester
Nylon zipper, also called spiral zipper, zipper type is the most widely used. Nylon zipper material is hard, chain tooth bite is around the state, soft threading a strong sex.
The color of the cloth belt and chain tooth relative coordinate, tonal and elegant.
Nylon zipper soft, smooth, bright colors, the most outstanding characteristic is light.
Zipper size
Classification
Close end
Open end
2 way close end
2 way open end
Chain
#3
√
√
√
√
√
#4
√
√
√
√
#5
√
√
√
√
#6
#7
√
√
√
√
√
#8
√
√
√
√
#9
#10
√
√
√
Recommended Use of Nylon Zipper
Application
Type
3#,4#
5#
7#,8#
10#
Women's underwear, pant, skirts and trousers
√
Trousers, children's clothing
√
√
Female chest shirt, casual wear
√
√
Uniforms, training suits, jeans
√
√
Hat, glove, luggage inner bag
√
√
Purse, luggage out bag, shoes, jackets
√
Ski jackets, down jacket
√
√
Duffle coat, leather coat
√
√
Suitcase
√
√
Sleeping bag
√
√
Camping tent
√
√
√
Shoes & Boots
√
√
Armament cover
√
√
Canopy (ship), the big tent
√
Canopy and framed tent
√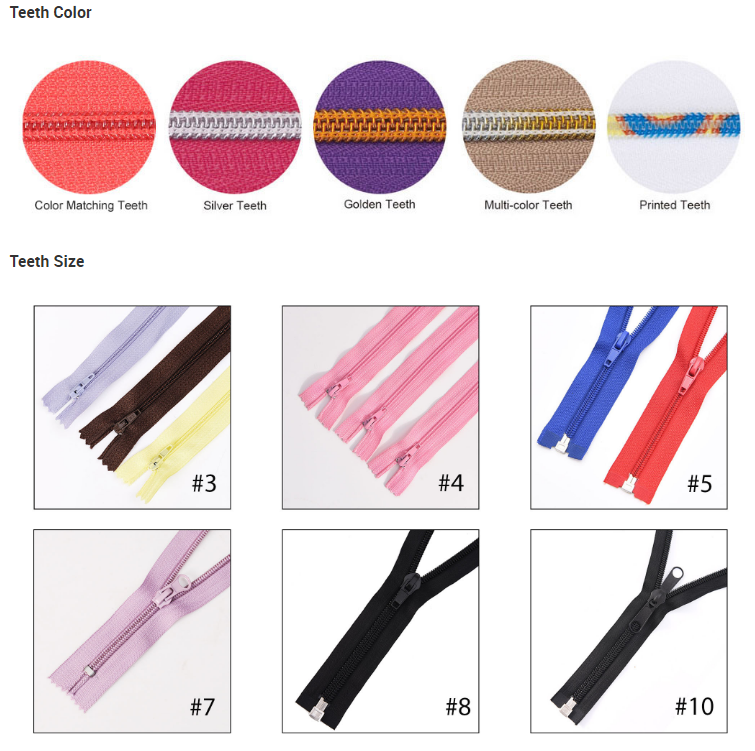 Factory