#5 Gold Plated Nylon Coil Zippers
#5 Nylon Gold Open End Zipper
| | |
| --- | --- |
| Model: | 0222-5139 |
| Size: | 5# |
| Type: | A/L |
| Material | Nylon coil zipper |
| End Type | Open-end |
Material: Nylon teeth and polyester tape
Size: #5
Zipper Type: Open end
Feature: Auto Lock
Length: 70cm
MOQ: 2000yds
Teeth Color: Gold
This type is 5# gold plated nylon open end zipper, with very good quality and various colors, material .
The teeth of these zippers are extruded plastic, sewn onto the zipper tape.
Coil zippers have many applications from fashion-wear to all types of tents and canvas goods and bags.
Zipper size
Classification
Close end
Open end
2 way close end
2 way open end
Chain
#3
√
√
√
√
√
#4
√
√
√
√
#5
√
√
√
√
#6
#7
√
√
√
√
√
#8
√
√
√
√
#9
#10
√
√
√
Recommended Use of Nylon Zipper
Application
Type
3#,4#
5#
7#,8#
10#
Women's underwear, pant, skirts and trousers
√
Trousers, children's clothing
√
√
Female chest shirt, casual wear
√
√
Uniforms, training suits, jeans
√
√
Hat, glove, luggage inner bag
√
√
Purse, luggage out bag, shoes, jackets
√
Ski jackets, down jacket
√
√
Duffle coat, leather coat
√
√
Suitcase
√
√
Sleeping bag
√
√
Camping tent
√
√
√
Shoes & Boots
√
√
Armament cover
√
√
Canopy (ship), the big tent
√
Canopy and framed tent
√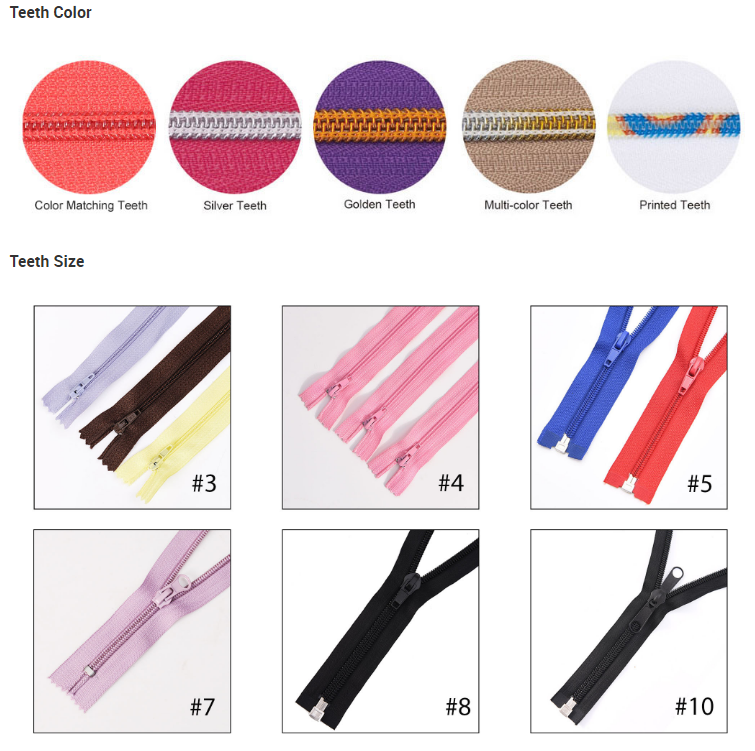 Package

Factory