#5 Open Ended Nylon Zippers
#5 Nylon Coil Separating Zipper
| | |
| --- | --- |
| Model: | 0222-0509 |
| Size: | 5# |
| Type: | A/L |
| Material | Nylon coil zipper |
| End Type | Open-end |
Size: #5
Zipper Type: Open end, auto lock
Common uses: Lightweight jackets, hoodies, fleece, robes
Description:
#5 nylon coil separating reversible zippers are medium-weight and feature teeth that measure approximately 5mm (1/4 inch) wide when zipped.
These #5 nylon coil zippers separate at the bottom, jacket-style.
They are available in wide array of colors.
These are one-way zippers (they have one slider).
The slider's tab swings around to fall on the desired side of the zipper.
Zipper size
Classification
Close end
Open end
2 way close end
2 way open end
Chain
#3
√
√
√
√
√
#4
√
√
√
√
#5
√
√
√
√
#6
#7
√
√
√
√
√
#8
√
√
√
√
#9
#10
√
√
√
Recommended Use of Nylon Zipper
Application
Type
3#,4#
5#
7#,8#
10#
Women's underwear, pant, skirts and trousers
√
Trousers, children's clothing
√
√
Female chest shirt, casual wear
√
√
Uniforms, training suits, jeans
√
√
Hat, glove, luggage inner bag
√
√
Purse, luggage out bag, shoes, jackets
√
Ski jackets, down jacket
√
√
Duffle coat, leather coat
√
√
Suitcase
√
√
Sleeping bag
√
√
Camping tent
√
√
√
Shoes & Boots
√
√
Armament cover
√
√
Canopy (ship), the big tent
√
Canopy and framed tent
√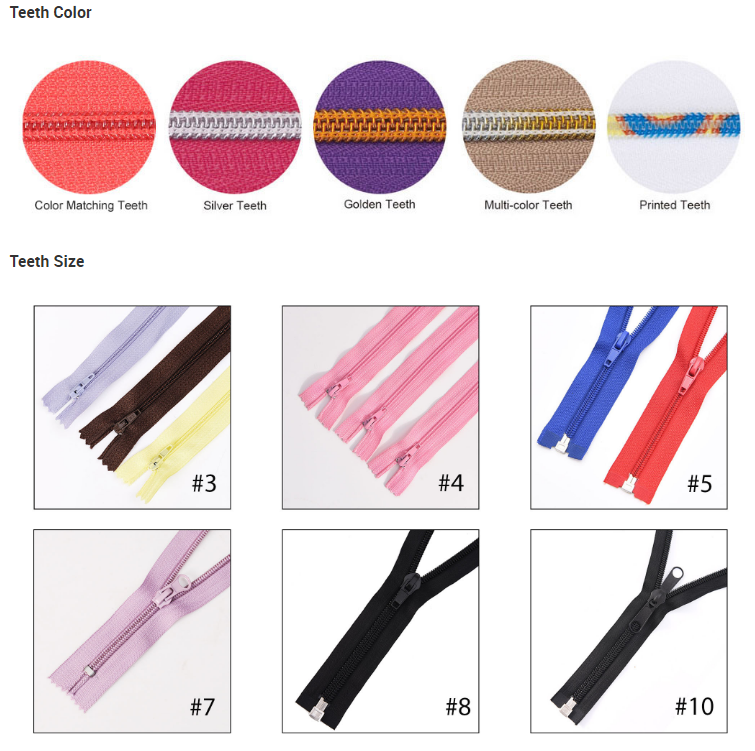 Package

Factory